Contact Julie Koester
239-404-7881
INDUSTRY ERA WOMEN LEADERS HONORS
JULIE KOESTER AMONG TOP 10 ADMIRED WOMEN LEADERS OF 2022
FOR IMMEDIATE RELEASE, Naples, Florida-Aug 1, 2022- The Industry Era Women Leaders has recognized Dragon Horse Agency's Mother of Dragons, Julie Koester, as one of the Top 10 Admired Women Leaders of 2022.
A unique force in the marketing industry, Julie has tremendous insight into the power of words and how they influence people. She uses her expertise and passion to drive her co-founded companies with partner Blake Renda towards unprecedented growth.
The companies have grown into a holding company, Veedor Holdings, that includes Dragon Horse Agency, Dragon Horse Publishing, and Moxie Creed.
When asked about this honor, Ms. Koester had this to say,
 "What a thrill to be included among such incredibly powerful, diversely talented women! All women hold an extraordinary and unique power and we need women to lead at every level and in every field."
The Industry Era Women Leaders is an international digital and print magazine featuring pioneers in the industry. They serve as a forum for C-level executives to share industry experiences that will support and inspire others to achieve business goals and stay ahead of the competition. IERA-Women Leaders celebrates the contributions of women in leadership. They aim to help build a corps of future female leaders in every professional endeavor. In today's world, they celebrate the remarkable contributions of women, each forging a course for others to make their mark.
https://iera-womenleaders.com/Julie-Koester-Founder-Managing-Partner-&-President-of-Dragon-Horse-Ad-Agency-Top-10-Admired-Women-Leaders-of-2022.php
https://iera-womenleaders.com/magazine/Admired-WL-2022/#page/16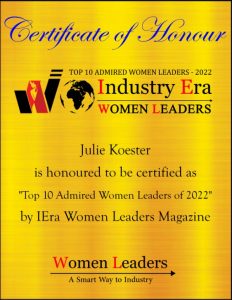 About Dragon Horse
Dragon Horse was founded in 2015, headquartered in Naples, FL, with offices in Santa Monica, CA, is a multi-award-winning business marketing leader offering services designed to achieve clients' goals. Dragon Horse is the next generation creative syndicate, a marketing and business strategy agency, combining synergies of in-depth skill sets in one integrated, comprehensive solution for business success.
####