Dragon Horse Agency Listed Among 101 Best Florida Social Media Marketing Companies and Startups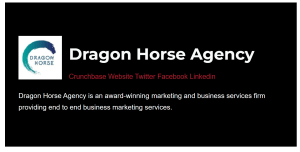 This article showcases our top picks for the best Florida based Social Media Marketing companies. These startups and companies are taking a variety of approaches to innovating the Social Media Marketing industry, but are all exceptional companies well worth a follow.
We tried to pick companies across the size spectrum from cutting edge startups to established brands.
We selected these startups and companies for exceptional performance in one of these categories:
Innovation

Innovative ideas
Innovative route to market
Innovative product

Growth

Exceptional growth
Exceptional growth strategy

Management
Societal impact
We are honored to be considered as one of Florida's best Social Media Marketing Companies. This honor is given by our peers in the industry.  It isn't an award that is nominated and voted, but an acknowledgement by others in the industry that we at Dragon Horse stand out among the crowd.
 But we are so much more than just social media marketing.  Dragon Horse Agency is the next generation creative syndicate.  We combine marketing and business strategy to provide one integrated solution for business success.  Our success is driven by our client's success.  
At the end of the day, business owners want more new customers and for their current customers to engage more often. Well-designed advertising is meant to attract and connect potential clients and engage current clients with the business. It sounds simple enough, and if it actually were, everyone would be successful. It requires psychology, extreme communication skills, shrewd negotiation abilities, artistry, business acumen and limitless creativity.
Social media is a small part of our world.  We want to pull people into your story and entice them to stay.  But with that comes all areas of business marketing.  At Dragon Horse, we want to tell your story.  Your story is what connects people with experiences and those experiences have the ability to create desire.  We can tell those stories anywhere from a simple business card to online.  Our clients desire to be more than just a logo.  They want to be defined by their stories.  We are able to provide that through identity and brand management.
  Discovering your voice and who you gives your customers something to talk about.  They aren't left to define who you are. 
We want you to stand out in the world and be different.  People notice different.  We can accomplish this through our digital media channel.  We want to always remind people of their interest and push them back to our clients.
From production and social media to business consulting and brand management, Dragon Horse is a driving force in the marketing world.  We offer talent management, concept development, business advisory, business operations, creative, print, content creation, SEO, strategy, artificial intelligence, web design, media buying, reputation management, public relations, advertising, branding and marketing. We couldn't do any of the above without a master team of people who specialize in all the required support pieces like analytics, script writing, graphic design, SEO, radio production, google analytics, signage, menu engineering and so much more.
You know where you want to be.  We know how to get you there.  
With integrity, excellence, experience and execution, Dragon Horse is committed to the tireless pursuit of exceptional business marketing.