Dragon Horse Agency Wins 4 NYX Marcom Awards for Toofer and The Giblet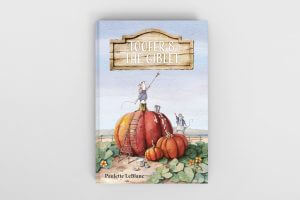 Established in 2018, The NYX Awards recognizes, honors, and celebrates excellence in marketing, communication, and creativity across industries and mediums, to advocate worthwhile and significant projects.  The NYX Awards receive thousands of entries from more than 60 countries each year.  This award recognizes the works of professionals at the forefront of their industry.  These fields range from marketing to communication, print to digital, and creative industries.
The NYX Awards are open to all individuals and organizations who embody creativity within their industries.  These industries encompass marketing, communication, print and digital, and creativity.
NYX Award winners are chosen by senior-level industry leaders with professional experience across marketing, communication, advertising, public relations, and other industries.  Judging is blind and based on the following criteria:
Creativity/Concept/Idea
Content/Quality of Message
Production & Execution
Innovation/Effectiveness
Overall Experience
We are proud to announce that Dragon Horse Agency has won four NYX Awards for our work with Toofer and The Giblet, a children's book published by Dragon Horse Publishing.
Gold: Category of Advertising -Postcard(NEW)
Silver: Category of Advertising- Newspaper AD(Single)
Silver: Category of Advertising-Advertising Campaign
Silver:  Category of Advertising-Advertising/Other(Website)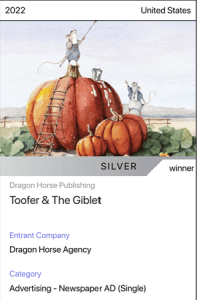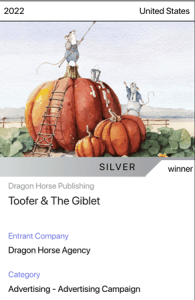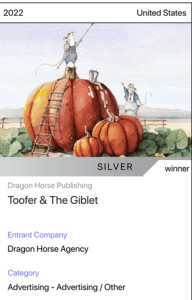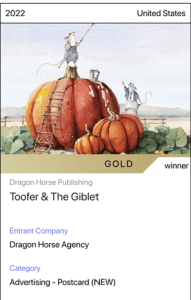 What an honor to join the ranks of NYX Award winners.